Mr. Padma Kumar
Managing Director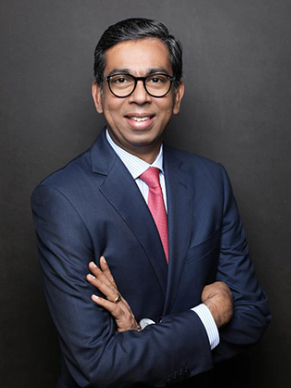 Regarded as one of the commercial intermediaries in this region and is the Managing Director/Owner of Luxe Port Trading, Mr. Padma Kumar, who hails from India, arrived in Dubai 30 years ago as a young aspiring entrepreneur, full of dreams and with a vision to one day build his own empire in this country, where 'Luck favors the brave". Due to his passion in Beauty Industry, Mr. Kumar entered the world of Fragrances & Cosmetics through his very first job in Salam Studios & Stores in Distribution department. Working his way up the corporate ladder, quite adamant to pursue his dreams, he left the job to venture his long term partnership with EuroItalia s.r.l. in 2005. This was his first stepping stone towards success!
With his passion, determination combined with hardworking & dedicated team, Mr. Kumar pioneered Local Distribution business for EuroItalia brands (Versace, Dolce & Gabbana, Moschino to name a few by then) in GCC markets through Alpha Italia FZCO while his better half "Mrs. Dimple Kumar" looked into successful implementation of Regional Duty Free business (for EuroItalia), through another company "Beauty & Fragrance Intl". In 2010, Mr. Kumar extended his business wing to offer expertise as "Marketing & Supervisory Arm" to EuroItalia in rest of the Middle East, South Asia & Egypt. During the same period, he also focused on his companies in India where is explored the opportunities in Pharma & IT segments. Today, he is very proud owner of several successful businesses in UAE & India.
With the success of EuroItalia brands in Distribution, it was now time to fulfill his dream and diversify his experience and knowledge to other Luxury Brands. Luxe Port Trading LLC paved way by embracing new tech era and focusing on effective marketing and communication strategies in this rapidly changing multi-faceted beauty industry; starting its operations in UAE & Oman markets, kicking off brilliantly with several brands namely, Marco Serussi, J. Lesquendieu, Costume National, Jacques Fath, Isabey, Panouge, Evody, S. Strikes the Notes and Panama 1924, in addition to its core brands as Versace, Moschino, Missoni, Dsquared2.
Mr. Kumar feels very proud in leading a highly experienced, qualitative and dedicated team in Luxe Port Trading who are working hard with agility to strengthen the business and to accomplish Mr. Kumar's vision in making Luxe Port Trading LLC a LEADING DISTRIBUTION HOUSE IN UAE & THE MIDDLE EAST.